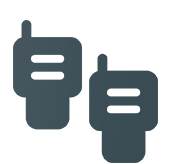 Bigger sites ? National coverage ? for a restaurant or retail ? It doesn't matter : Make your choice.
During your event or calamaties, on your construction-site or during a transport, fast and efficient communicating !, that's why y'll need walky Talky's.
We can make you a customised price-offer related to your activity and/or budget (starting @ 49€).
No license radio's for retail, horeca, contruction, events, private use, ..

Handsfree communication in small groups of max 6 persons. Usefull in industrial or sports envirements .

Reliable digital radiocom using NEXEDGE protocol. Tetra, DMR, P25 and others.

POC-radio or Push to talk Over Radio. Uses the GSM-network (3G/LTE) , and/or Wifi. Unlimited distance between 2 radio's.

Extend your existing network with new radio's. Compatible with all brands.

Also called Citizen Band Radio. Licence free use on the 27MHz frequenties. Mostly as a 40 channel AM/FM version.

For every radio the right accessory. Find here speaker-mikes, antennas, etc..