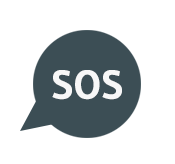 For more than 30 years, Essec is offering wireless calling devices for your personal security. Those can be paging, radio or gsm related. For in-building fixed solutions, you'll find, as for hospitals or homes, see www.indigocare.be
Small handsome GSM devices for Personal Security calls.

Portable radio's (Walky-Talky's) equipped with Loneworker applications, such as "manuel alarm", "fall-down detection" & "non-move registration".

Simple portable push-buttons for eldery related to a (multi) receiver. The transmitters can be of different kind.